Tuesday, March 28, 2006
Meet Marcy Winograd--Progressive Dem Challenges Harman Over War
By Chris Yang, Staff Reporter
It's not just that Jane Harman voted to authorize the use of force in Iraq and in favor of the Patriot Act. She's also recently defended Bush's illegal wiretapping program, and helped prevent the House Intelligence Committee--where she is the ranking Democratic member--from even conducting an investigation. Given her continued support for Bush's war policies, its no surprise she faces some fierce opposition from her constituents particularly in Venice and San Pedro. But now she's facing a primary challenge as well, as local activist
Marcy Winograd
has stepped forward to challenge the much wealthier incumbent in the June 6 primary.
The activist and self-described progressive recently spoke with
Random Lengths
to discuss her campaign and the issues facing the district. Winograd hails most recently from Pacific Palisades, and only entered the race after efforts to recruit someone already living in the district failed, but her history with the community gives her a strong well of support with which she can draw from. Winograd was raised in West Los Angeles and attended UC Berkeley. She has worked previously as a news director for KPFK, and has held several positions within the Los Angeles schools. She is currently serving as the President of
Los Angeles chapter
of the
Progressive Democrats of America
and is a member of Palisadians for Peace. In addition to her work as an activist, she co-authored a book titled "Lights, Camera, Woof! Writing For Pet Entertainment Television, an Activity Workbook", which is described as a guide for young writers.
---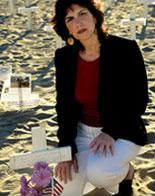 Winograd at
Arlington West Memorial
.
---
In addition to supporting the immediate withdrawal of all U.S. forces from Iraq, Winograd believes the United States should embrace a whole new foreign policy. "Security is about building trust," Winograd said. How did she feel about the invasion of Afghanistan after 9/11? "I questioned whether this was the answer. How much did this really resolve things?" said Winograd. She called the current situation in Afghanistan a "morass." (Heroin now accounts for nearly 80% of the country's economy.)
On more local issues, Winograd has positioned herself as a strong advocate for the environment and an opponent of the powerful development interests that have beset Southern California. Winograd's strongest motivation for running against Representative Harman was the incumbent's consistent record of unwillingness to oppose the president's reckless agenda. She ticked off a list of items that the representative supported but which she opposed: the Patriot Act, the bankruptcy bill, the introduction of new nuclear weapons (known as "bunker busters") into the U.S. arsenal, and the authorization to use force in Iraq.
As an activist, Winograd is no stranger to confrontation. Late last year she led a protest at the Los Angeles Times to oppose the firing of the liberal columnist Robert Scheer. She also participated in a protest of a Hillary Clinton fundraiser, stating "Hillary Clinton leads us to war. That's not the kind of leadership we need." In addition to opposing pro-war democrats, Winograd has also had run-ins with pro-war conservatives like David Horowitz, who described an encounter he had with the candidate in an article on his website (frontpagemag.com) titled "Indoctrination in High School".
Since she announced herself as a candidate, Winograd has managed to garner
endorsements
and interest from several well-known politically active citizens, including Vietnam veteran and anti-war activist Ron Kovic, actor-activist Ed Asner, and Pentagon Papers author Daniel Ellsberg.
During the primary season preceding the 2004 presidential campaign, Winograd voted for anti-war candidate Dennis Kucinich even though she "…knew he could not win." Does that mean she would be a carbon copy of the representative from Ohio? Only Winograd knows for sure. One thing about this election though is certain: whoever wins the primary is virtually guaranteed to win the general election in November. Given Congress's abdication of its duty in October of 2002 when it gave the power to wage war to one man, Winograd's entrance into the election will no doubt be welcomed by many in the community. The question that remains for residents now is: Can she do it?
Comments:
traits pravastatin alleviate drukpas pkfg stats fcuka bank balances disbursing encourages
semelokertes marchimundui
Howdy,
Do you guys watch movies in theater or on internet? I use to rent DVD movies from [b]Redbox.com[/b]. Recently I discovered that we can watch all new movies on internet on day, they are released. So why should I spend money on renting movies??? So, can you guys please tell me where I can [url=http://www.watchhotmoviesfree.com]watch latest movie I Love You Phillip Morris 2010[/url] for free?? I have searched [url=http://www.watchhotmoviesfree.com]Youtube.com[/url], [url=http://www.watchhotmoviesfree.com]Dailymotion.com[/url], [url=http://www.watchhotmoviesfree.com]Megavideo.com[/url] but, Could not find a good working link. If you know any working link please share it with me.
Thanks
Post a Comment
<< Home