Tuesday, March 28, 2006
Long Beach Student Walkouts Continue
Paul Rosenberg, Senior Editor
On Monday, roughly 2,000 Long Beach students participated in day-long walkouts in protest of draconian immigration law changes being proposed in Congress. Students marched to three congregation centers: Houghton Park, Cesar Chavez Park and the Long Beach Civic Center Plaza. The march down Pacific Avenue to the Civic Center stretched at least six or seven blocks, with banners, flags and signs.
According to a jointly prepared police and school district
press relesases
, students came from seven Long Beach Unified School District (LBUSD) high schools: Millikan, Wilson, Jordan, Renaissance, Cabrillo, Poly and Lakewood. They were joined by students from Mayfair and Paramount high schools as well, as well as by a scattering of Long Beach middle school students.
Traffic was "significantly impacted" according to police, who deployed approximately 400 officers in response, activating the SWAT team, deploying detectives, and mobilizing over eighty off-duty officers. According to the LBPD/LAUSD:
In response to the protest activities, the City of Long Beach activated its Emergency Operations Center. Representatives from various city departments, the Long Beach Unified School District, and the California Highway Patrol worked under a unified command to coordinate citywide resources and ensure the safety of the students and the community.
Walkouts continued Tuesday, according to LBUSD spokesperson Chris Eftychiou. "Today we have had as many as 1000 total, including a handful of students from a few middle schools as well," he said. These included roughly several hundred combined from Wilson, Poly & Cabrillo, roughly 120 from Millikan, 50 from Lakewood and 150 from Jordan, according to a
more detailed report
from LBreport.com. Over 100 students reportedly left Hill Middle School, while most other Middle School walk-outs numbered between 20-30 or less.
On Tuesday, LBUSD drafted a letter to parents, stating:
When societal or political issues arise in our community, our state, or our nation, we encourage students to voice their concerns and participate in appropriate classroom discussion about these events. We discourage activities that jeopardize the safety of students or interrupt the educational process.

It is important to remember that there are consequences when a student leaves class or campus without permission. Consequences will be determined consistent with school practice based upon a student's involvement and behavior.

I hope you will stress to your children the importance of remaining on campus and expressing their opinions in a safe and productive manner.
Yet, a substantial body of pedagogical theory stresses the importance of engaging students in the world around them. When students take the initiative to engage the world without teachers having to prod them, there could be smarter ways for schools to react, and further their education, than trying to quickly sedate them again.
Students Walk out, Protest in Solidarity
By James preston Allen, Publisher

On Monday March 26 a reported 40,000 southern California highschool students took to the streets to protest the pending immigration legislation in Washington DC. Students from all over Los Angeles walked out of schools and demonstrated their solidarity with immigrant rights organizers who held a mammoth 500,000 person protest the previous Saturday at City Hall in LA. Locally students from Banning, Carson, and San Pedro high schools left classes and marched by the hundreds in an air of gleefull protest that snarled traffic on the 110 Harbor freeway and then wound its way back through San Pedro on South Pacific Avenue then back to the High School. Many LAUSD schools were on "lock down" and the automated phone messaging system for Dana Middle School, which adjoins the San Pedro high school notified parents that as of Tuesday this school as all LAUSD high schools and Middle schools would be on lock down.

School officials and Harbor Division police gathered at the area around the mouth of the Harbor Freeway to discourage further disruptions. LAPD Captain Gannon said, "If the kids get out our job is to help facilitate them, if they want to march. But we definitely don't want to see anyone get hurt." Referring to the students that clogged the Harbor Freeway on Monday. "I hate to see one of these kids get hit," Gannon concluded.

Even Councilwoman Janice Hahn seemed supportive of the student's right to demonstrate, "especially on Ceasar Chavez Day," she explained. Perhaps this will, "Get our young people out of their apathetic nature [and motivate] them to vote in the future," Hahn said.

Carson Rocked by Protests
By Lyn Jensen, Carson Reporter

High-school students protesting proposed federal legislation staged large demonstrations in Carson on Monday and Tuesday. Students in many communities nationwide walked out of classes for several days over the past week to protest a bill passed by the House of Representatives last December that would make being in the US illegally a felony.

About two hundred, mostly Hispanic students gathered for about an hour in front of City Hall on Monday, waving Mexican flags and carrying misspelled and obscenity-laced signs criticizing the House Bill 447.

"We had a few people throw water bottles and there was some jaywalking," said Capt. Todd Rogers of the Los Angeles County Sheriff's Department, but there were no arrests.

The next morning about 1,000 students from several area schools gathered in front of Carson High School. Police made three arrests, two for assault on a police officer and one for disorderly conduct.

A spokesperson for Carson High School said the school was in complete lockdown for the later part of Monday and all day Tuesday.

"We support the constitutional right to protest," said Rogers, "but they've got to do it safely."

Massive Immigration Law Protests Set Tone In LA
The largest-ever demonstration in LA history on Saturday, March 25--estimated at anywhere from 500,000 to over 1,000,000 people--set a tone that drew students in a widespread walkout the day before, and even larger walkouts the following Monday. While LAUSD went on lockdown the next day, walkouts continued locally in Long Beach. The continued demonstrations raise the possibility of a fundamental shift in citizen attitudes, and willingness to take political action. It also appears to signal a significant set-back in the GOP's long-term strategy to try to woo Latino voters.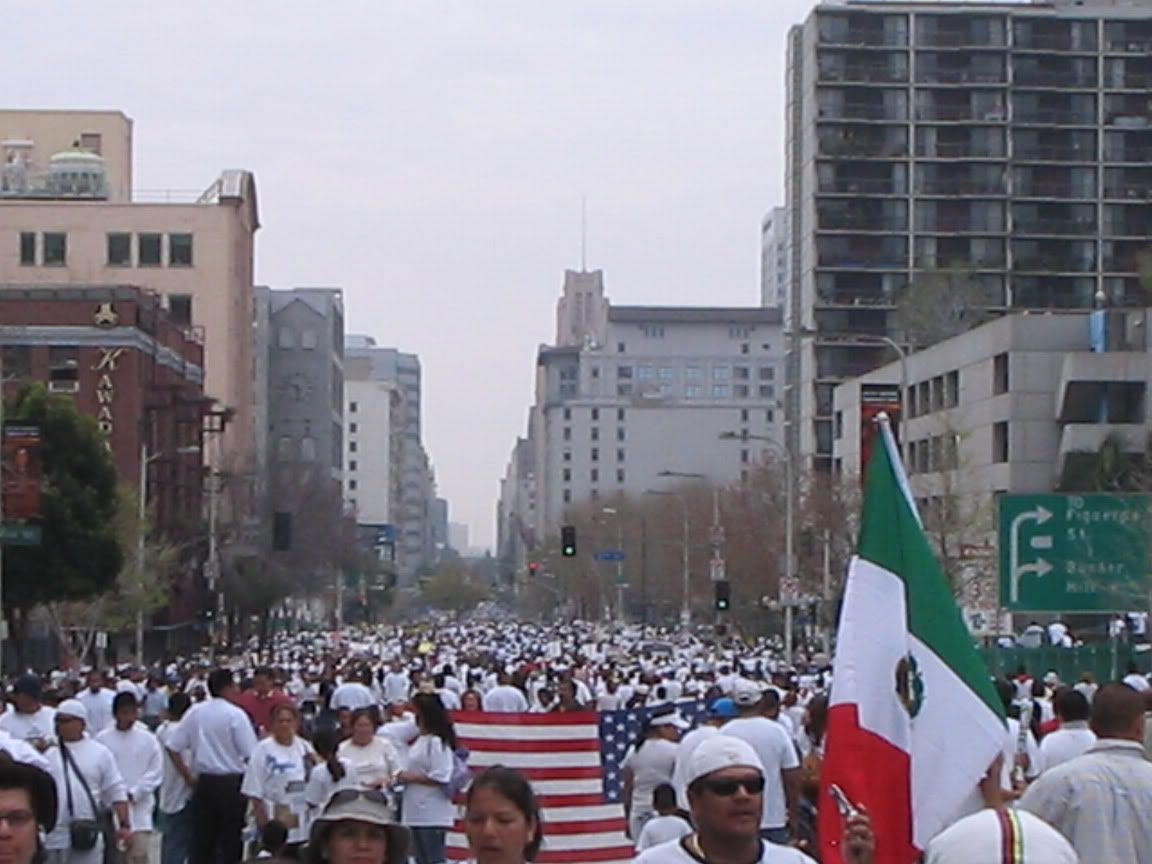 Photo: Matt Highland. Click to enlarge.
Meet Marcy Winograd--Progressive Dem Challenges Harman Over War
By Chris Yang, Staff Reporter
It's not just that Jane Harman voted to authorize the use of force in Iraq and in favor of the Patriot Act. She's also recently defended Bush's illegal wiretapping program, and helped prevent the House Intelligence Committee--where she is the ranking Democratic member--from even conducting an investigation. Given her continued support for Bush's war policies, its no surprise she faces some fierce opposition from her constituents particularly in Venice and San Pedro. But now she's facing a primary challenge as well, as local activist
Marcy Winograd
has stepped forward to challenge the much wealthier incumbent in the June 6 primary.
The activist and self-described progressive recently spoke with
Random Lengths
to discuss her campaign and the issues facing the district. Winograd hails most recently from Pacific Palisades, and only entered the race after efforts to recruit someone already living in the district failed, but her history with the community gives her a strong well of support with which she can draw from. Winograd was raised in West Los Angeles and attended UC Berkeley. She has worked previously as a news director for KPFK, and has held several positions within the Los Angeles schools. She is currently serving as the President of
Los Angeles chapter
of the
Progressive Democrats of America
and is a member of Palisadians for Peace. In addition to her work as an activist, she co-authored a book titled "Lights, Camera, Woof! Writing For Pet Entertainment Television, an Activity Workbook", which is described as a guide for young writers.
---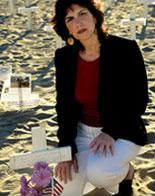 Winograd at
Arlington West Memorial
.
---
In addition to supporting the immediate withdrawal of all U.S. forces from Iraq, Winograd believes the United States should embrace a whole new foreign policy. "Security is about building trust," Winograd said. How did she feel about the invasion of Afghanistan after 9/11? "I questioned whether this was the answer. How much did this really resolve things?" said Winograd. She called the current situation in Afghanistan a "morass." (Heroin now accounts for nearly 80% of the country's economy.)
On more local issues, Winograd has positioned herself as a strong advocate for the environment and an opponent of the powerful development interests that have beset Southern California. Winograd's strongest motivation for running against Representative Harman was the incumbent's consistent record of unwillingness to oppose the president's reckless agenda. She ticked off a list of items that the representative supported but which she opposed: the Patriot Act, the bankruptcy bill, the introduction of new nuclear weapons (known as "bunker busters") into the U.S. arsenal, and the authorization to use force in Iraq.
As an activist, Winograd is no stranger to confrontation. Late last year she led a protest at the Los Angeles Times to oppose the firing of the liberal columnist Robert Scheer. She also participated in a protest of a Hillary Clinton fundraiser, stating "Hillary Clinton leads us to war. That's not the kind of leadership we need." In addition to opposing pro-war democrats, Winograd has also had run-ins with pro-war conservatives like David Horowitz, who described an encounter he had with the candidate in an article on his website (frontpagemag.com) titled "Indoctrination in High School".
Since she announced herself as a candidate, Winograd has managed to garner
endorsements
and interest from several well-known politically active citizens, including Vietnam veteran and anti-war activist Ron Kovic, actor-activist Ed Asner, and Pentagon Papers author Daniel Ellsberg.
During the primary season preceding the 2004 presidential campaign, Winograd voted for anti-war candidate Dennis Kucinich even though she "…knew he could not win." Does that mean she would be a carbon copy of the representative from Ohio? Only Winograd knows for sure. One thing about this election though is certain: whoever wins the primary is virtually guaranteed to win the general election in November. Given Congress's abdication of its duty in October of 2002 when it gave the power to wage war to one man, Winograd's entrance into the election will no doubt be welcomed by many in the community. The question that remains for residents now is: Can she do it?